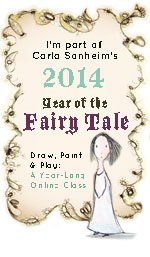 I am so very excited!! I just purchased an early Christmas gift for myself. I will be participating in Carla Sonheim's 2014 year long online class called:
The Year of the Fairy Tale
.
These are the kind of presents I love!! The class officially starts on January 20, 2014 so there is still plenty of time to sign up.
Carla in an amazing instructor. I have taken a few of her other classes and have enjoyed each one.
Have a Great Day Everyone!
Happy Painting! Cheers! and ... Break a Bristle.
Joan